Mitigation measures and best management practices
Successful mitigation measures taken up in the past to reduce contamination impact in the water resources include:
The construction of a channel to divert water from two contaminated streams to a point of the river downstream of the waterworks,
Enhancing soil aquifer treatment through recharge ponds,
Injection of river water after sand filtration through a well in the Low Valley aquifer to increase ground water quantity and quality.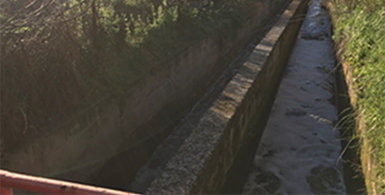 Channel constructed to divert water from two contaminated streams to a point of the Llobregat river downstream of the waterworks located in Sant Joan Despí, near Barcelona.
WaterProtect plans the following mitigation measures:
Identification of relevant best management practices for fertilizers and PPPs attenuation feasible in the case study considering type, cost, effectiveness, applicability, level of implementation, bottlenecks, strengths, as for example drift reducing nozzles, buffer strips, point source bioremediation systems (biobed, biofilter, Sentinel), adapted soil management, mycorrizhas (as installed in the Low Llobregat River)
Ranking/prioritization of possible BMPs based on cost effectiveness analysis (CPABLL)
Tentative implementation of selected measures, including innovative BMPs such as point source bioremediation based on the use of white rot fungi (WRF) and possibly also microalgae.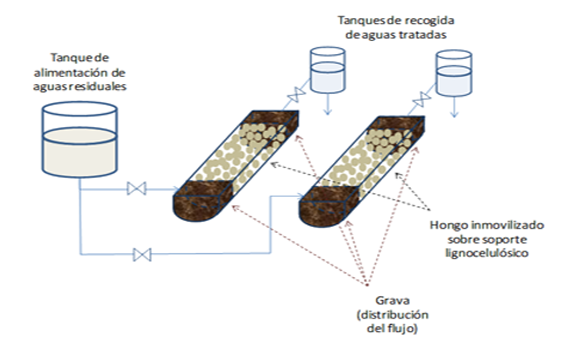 Scheme of the bioremediation system based on the use of white rot fungi (WRF) planned to be tested in the Llobregta River.
Other activities during WaterProtect will include dissemination through:
the web, which will be routinely updated with new contents and recommendations
the elaboration of 'Policy briefs' devoted to project key aspects
organization of 2 information days
preparation and distribution of practice material leaflets/brochures
2 field visits/demonstrations (WRF bioremediation, etc.…)
Sustainable continuation beyond the 'WaterProtect' project is guaranteed by the involvement of stakeholders such as the Catalan Water Agency, the Barcelona Water company, and the Water Users Association CUADLL, with whom there has been a long history of collaboration with CSIC which is likely to continue in future.